From the President's Pen...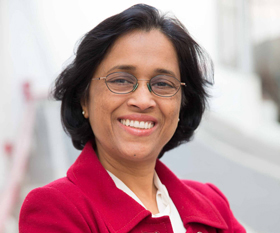 Prof. Geeta Kingdon, President, CMS
Dear Parents,
Students of classes 8 to 12 of all CMS campuses participate in the Chief Justices (CJ) conference each year. By way of orientation prior to the conference, they are given some material and encouraged to think and to write essays about the scheduled themes, but the most exciting part for the pupils is their actual participation in the conference itself.
Only CMS students have the opportunity to participate, and they do so in two different ways. Firstly, students who volunteer for the Youth Leadership programme take part in 10 preparatory sessions each of 3 hours on Sundays from July to early November, to prepare for their close engagement with World Leaders, Chief Justices and Judges; some of these students present the Children's Appeals, and others engage by asking the assembled senior world judiciary their searching, sometimes complex and sometimes discomfiting questions! Secondly, students of classes 8 to 12 attend the plenary and parallel sessions of the conference on any one day of the conference, where they get a four-hour opportunity to hear the speakers, and also raise their questions / offer their perspectives on the conference themes.
While not all students may be aware of the enormity of the opportunity their active participation provides, the positive impact of such participation is incalculable, even though it is not immediately visible. Since students are intellectually engaged in discussion of contemporary world affairs in the presence of eminent international dignitaries and legal luminaries, they sense that their perspectives are valued, and they become aware of the importance of their concerns in the world, which boosts their self worth, self-concept and confidence. That the opportunity is priceless is attested by discerning parents and students alike. As one IAS officer parent of a young CMS alumna aged 19 years old attending college in south India requested: "Can my daughter be allowed to accompany any one of the judges at the conference please? She can fly back for the conference. I received training on how to deal with dignitaries in Mussourie when I trained as an IAS officer, but I want my daughter to have that opportunity right now"; and as another student who had the opportunity to meet the Dalai Lama at one of the past CJ conferences said: "I put down the fact of my attendance at this important conference, and the opportunity it provided (to interact with the Dalai Lama and pre-eminent judges of many countries) on my personal statement in my university application for Oxford University, citing that as a factor that inspired my interest in the study of economics and politics" – this student went on to do a BA degree at the University of Oxford. The number of CMS students choosing to study law at university has greatly increased in the past 10 years, which may be partly inspired by their attendance at the CJ conferences. So, if your child is in classes 8 to 12, please make sure she/he takes full advantage of participation at this year's (imminent) conference!
The CMS Editorial Department
Dr Preeti Shankar, Chief Editor
Dr Preeti Shankar
Chief Editor
Every student who aspires to become a person of literary taste and talent is welcome to join the merry band of writers that constitute the CMS Editorial Department. It is our endeavor, to quote Addison 'to bring Philosophy out of Closets and Libraries, Schools and Colleges, to dwell in Clubs and Assemblies, at Tea-tables, and in Coffee houses.' CMS publications include the CMS Annual Magazine, CMS Monthly Bulletins, Weekly newsletters and the Campus Magazines and Newsletters.
The CMS Editorial Department encourages creative writing among students leading to the development of their imagination, communicative skills, fluidity in writing and all-round personality development.
Mrs Smita Khare, Senior Sub-Editor
Mrs Smita Khare
Senior Sub-Editor
She is the pivot or axis which holds the Editorial Section in one place. She receives all the matters from the CMS Campuses and keeps a record of all the activities in CMS Campuses. She has an eye for accuracy and a penchant for detail in all her work. We depend upon Smita for filtering all the information before it is published. A lot of work and energy goes in collecting the matter, sorting it out and making it presentable before it is finally published.
Mrs Manju Rani Dubey, Sub-Editor
Mrs Manju Rani Dubey
Sub-Editor
Manju Rani Dubey is an all-rounder who can never say no to any task that is given to her. Her hard work and determined effort make her shine out. She not only proof-reads the children's articles for the Annual Magazine, but also covers the news of all CMS events for the media. Proficient in both Hindi and English, she writes the press releases for CMS for the newspapers and is a very responsible member of our team.
Now we come to the campus Reporters who are the eyes and ears of our department at the campuses. Let us see what they have to say:
Mrs Fauzia, Reporter, Rajendra Nagar Campus I
Mrs Fauzia
Editorial Board of CMS Rajendra Nagar Campus I comprises Mrs Fauzia, Ms Devika Gupta and students. A lot of literary activity takes place in the campus.
Mrs Malini Srivastava, Reporter, Rajendra Nagar II
Mrs Malini Srivastava
The Editorial Board of Rajendra Nagar II -Mind Mirage comprises Ms Malini Srivastava, Ms Sajja Ciddiki and Ms Subuhi Akhtar. It was formed with the aim to build up the literary skills of the children.
Mrs Reema Sethi, Reporter, Rajendra Nagar III
Mrs Reema Sethi
With an aim of providing holistic education to the students, the Editorial Board of Rajendra Nagar Campus III organizes activities like inter-house quiz, debate, speech, and elocution and group discussion competitions in the enlightened guidance of the Principal.
Ms Pooja Chopra, Reporter, Mahanagar Campus
Ms Pooja Chopra
Our Editorial Board at CMS Mahanagar believes that reading shapes minds and sharpens the intellect. Introducing the students to classics through a book club could be a start.
Ms Sadaf Fatima, Reporter, CMS Gomti Nagar I
Ms Sadaf Fatima
The editorial team at Gomti Nagar I is constantly on the move organizing literary activity and encouraging budding journalists to develop their talent.
Mrs Nidhi Sharma, Reporter, CMS Gomti Nagar II
Mrs Nidhi Sharma
Editorial Board is managed by Mrs Nidhi Sharma helped by Ms Medha Ahuja, Ms Neeta Shah, Ms Dolly Singh and Ms Munmun Sharma and the student members.
Mrs Shanara Khan, Reporter, Cambridge Section
Mrs Shanara Khan
The CMS Cambridge Editorial Board was formed in April 2018, under the guidance of the English teacher Mrs Shanara Khan.
Mrs Priyanka Singh, Reporter, RDSO Campus
Mrs Priyanka Singh
The RDSO Editorial Board comprises Ms Priyanka Singh, Ms Richa Sharma, Ms Aditi, Ms Anamika and Ms Azma Khan. We also have student reporters.
Ms Shagufta Khan, Reporter, Aliganj Campus II
Ms Shagufta Khan
The Editorial Board is working in the guidance of Principal, Mrs Shivani Singh and English teacher, Ms Sonu Seth with great enthusiasm and zeal.
Mrs Divya Nigam, Reporter, Indira Nagar Campus
Mrs Divya Nigam
The Editorial Board comprising two teachers, Mrs Divya Nigam and Mrs Rachna Mathur and four students, is constantly striving to bring forth the innate literary talents of students.
Mrs Taruna Mehta, Reporter, Station Road Campus
Mrs Taruna Mehta
Mrs. Taruna Mehta is Ms Qudsia Begum, Ms Preeti Sharma, Ms Neetu Rastogi and the student members of our Editorial Board.
Ms Sidra Naqvi, Reporter, Jopling Road Campus
Ms Sidra Naqvi
Our Editorial Board comprises Branch Reporter, Ms Sidra Naqvi, Teacher Editor Ms Renu Agarwal and student reporters. We encourage children to make full use of the library and maintain a personal diary.
Mrs Shikha Bhatnagar, Campus Reporter, Kanpur Road Campus
Mrs Shikha Bhatnagar
Our Campus Editorial Board comprises teachers, Ms Shikha Bhatnagar, Ms Richa Singh, Ms Kumud Sharma, Ms Protibha Ghosh, Ms Arfia Siddiqui, Mr Kallol Kumar Mishra, Ms Amanpreet Kaur, Ms Chhaya Joshi besides the student members.
Mrs Zeenat Khan, Campus Reporter, CMS Aliganj Campus I
Mrs Zeenat Khan
It is team work at CMS Aliganj Campus I. Creative workshops with staff and students not only provide us a 'de stress mantra' but inspire us to pen down our thoughts giving a vent to our entrapped emotions.
Mrs Mamta Tewari, Reporter, CMS Rajajipuram I
Mrs Mamta Tewari
We encourage students to participate in literary activities. Inter-house and inter-class creative writing competitions are organised by the Editorial Board of the campus and the best entries are put up at the Editorial Soft board installed in the library for all the students to read and take inspiration from.
Ms Atmika Srivastava, Reporter, Rajajipuram Campus II
Ms Atmika Srivastava
The Editorial Board has two teachers, Ms Atmika Srivastava and Mrs Srishti Srivastava as well as students who have conducted several activities like slogan writing competition, handwriting competition etc.
Ms Dheera Motiyani, Reporter, Anand Nagar Campus
Ms Dheera Motiyani
As a Branch Reporter, I take pride in celebrating and sharing the achievements of the campus - both academic and non-academic. There is never a dull day in the campus with a variety of activities being organized by the Editorial board.
Mrs Reeta Singh, Reporter, CMS Asharfabad Campus
Mrs Reeta Singh
To encourage essay writing, poetry composition and story writing among students and hone their creative spirit and imagination, an Editorial Board was formed comprising students from the Classes V to IX.
Mrs Neerja Ravindra, Reporter, CMS Chowk Campus
Ms Dheera Motiyani
The Editorial Board comprising Mrs N. Ravindra, Mrs A. Frank, Mrs S. Khan, Mrs N. Zaidi, Mrs S. Kapoor and students Wajiha, Soumyika, Aliza, Samia, Aseeb, Aiza, Shara are sanguinely organizing essay and poem writing activities- elocution, extempore, declamation etc.